Sex in pantyhose, nylon sex, oral sex, erotic stories, tights, women's legs, women in pantyhose, swinger club, partnerswapping, high heels, pumps, fetish sex, nylon fetish, experienced women, mature aunt, MILF, bondage, teacher, sex with the ex, nephew and aunt
Germany´s successful female author of panty hose erotiscism, wife sharing and MILF fantasies!


Ny Nyloni


Queen of open gussets - Master of movies in front of your inner eye!

Welcome to my homepage!
"They love my legs. Everything else comes by itself." Marlene Dietrich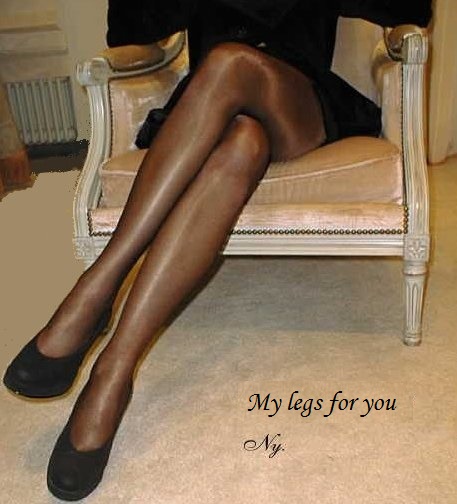 Ny Nyloni
The author describes the lusty satisfaction with silky material in her stories, as nylon lovers have never read before.
Tasty sex with nice, long legs in pantyhose and high heels!

Unrestrained but tasty sex with nice, long legs in pantyhose and high heels!



The author is living in Munich and on the island of Capri.
follow me
follow me

************************************
My ebooks in the trade for only
2 Dollar
************************************

Nylon Affairs Series
The english editon

Wet dreams - everything that men want from experienced women
My first Bestseller :
The US edition is available on all Amazon portals worldwide!
Click here to order!
Shortly after his 18th birthday, a young man is mercilessly seduced by his experienced aunt. Once she realizes that she can seduce him with her racy pantyhose legs and drive him absolutely crazy, she does so with very satisfying results for both of them! During his birthday party in the bathroom, later in the bed of her villa the whole night! The bestseller of Ny Nyloni!
Sex with the seductively shimmering look of beautiful, long legs plays a big role. This is what the author Ny Nyloni writes in her stories. In particular, she portrays the erotic experiences of experienced women with the young men who covet their admirable, mature bodies. From the middle to the end of the last century, pantyhose, for example, provided a delightful, additional emphasis to female legs. Not just a few young men were led to early secret, erotic fantasies through touching and watching women who dressed like this. In this manner fulfilling the secret wishes and dreams of men, who love the classic feminine form and wanted to learn from these goddesses.
Pictures of my photo album
Who I am
To my guide for fulfilled pantyhose eroticism
Look here for Sexy Sadies legs - my new cover model
More German editions
Georgina O´Well, my pseudonym for fetish-free, sensual eroticism
order here
Who I am
Pictures of my photo album
To my guide for fulfilled pantyhose eroticism
to the complete german version
************************************
Silky Kisses
Ny