Sex in pantyhose, nylon sex, oral sex, erotic stories, tights, women's legs, women in pantyhose, swinger club, partnerswapping, high heels, pumps, fetish sex, nylon fetish, experienced women, mature aunt, MILF, bondage, teacher, sex with the ex, nephew and aunt
Germany´s most successful female author of pantyhose erotic, hotwife and MILF fantasies!


Ny Nyloni

Queen of open gussets - Master of movies in front of your inner eye!

Welcome to my homepage!
"They love my legs. Everything else happens all by itself!" Marlene Dietrich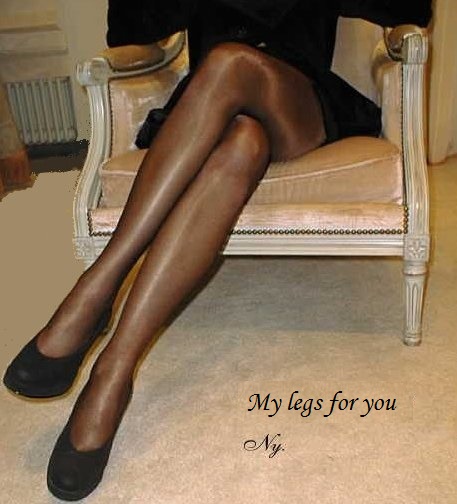 Ny Nyloni
Order all eBooks in English and German here

***


Please apologize my possibly wrong translation. I do all this myself.
Like so many other pleasurable things...
***
The author describes the lusty satisfaction with the silky material of tights in her stories,
as nylon lovers have never read before.
Unbridled but tasteful sex with beautiful long legs in pantyhose and high heels!
The author is living with husband Paul on the island of Capri, Italy and in Munich, Germany.
MILF?
"Mom I'd Like to Fuck, or Mature I'd Like to Fuck!"
A MILF is any older, mature woman for men which want sexual intercourse with. The term is mostly used to describe women over a certain age (30 or 40+) who are not their mothers themselves but are considered sexually attractive to young boys who would like to have hot sex with them. Sometimes the first. The term is inspired on Stifler's mom from the movie American pie, in which all of the classmates want to be seduced by Stifler's lustful mom.
Hotwife?


Hotwife is a more modern synonym for cuckolding.
Both describe the consensual arrangement between a (married) couple,
that the wife sleeps with other men.
Hotwifing is specifically about showing off an attractive woman.
Therefore, the expression translates to "hot wife".
Reasons to engage in "hotwifing" are many.
For one, it can sexually arouse the man to watch his wife having sex, and for another,
being unfaithful can also provide positive excitement on both sides.
Also, breaking a taboo (cheating) and jealousy can sexually arouse some people in the process.
This form of polygamy requires clear agreements and consent from both people.
The men often refer to themselves as "cuckolds" or "hotwifers."

My
Channel hier
My blog, my doings, my daily life
Now I'm a serial offender too!
Desperate Hotwives
Before reading all, briefly visit Pointie


Nylon Affairs eBook Series
The english edition

Wet dreams - everything that men and of course women too
want from an experienced lady and hotwife!
Order all eBooks in English and German here
Cover Girl
@styleclassy_
Also known as
The Lady in Black
in my series Desperate Hotwives
Another German Milf story. This is one of my early works. I published it in German in a 1st and 2nd part. It is one of my most successful stories. Here you can get both editions as a maxi-version. Enjoy!
Niels, a young German student from Munich, lives with his mother's sister from time to time because his mom travels a lot. Erika is a successful lawyer who dresses, without her knowledge, according to Niels' special preferences. Shortly after his eighteenth birthday, his wet dreams come true.
But Auntie Margret, Niels lovingly call her in this way too, and a good friend of his real Aunt Erika and his mother, also plays a big part in his fantasies and so a lustful round of long legs in seductive tights unfolds! Finally on a road trip to Lake Garda in Italy. Nylon lovers will once again get their money's worth in this early work by the female master of porn-erotic head cinema!
Sex in which the seductively shimmering appearance of beautiful, long legs plays a significant role. The author Ny Nyloni writes about this in her stories. In particular, however, she describes erotic experiences of sophisticated women with young men who especially love their desirable, mature bodies. From the middle to the end of the last century, for example, tights represented a delightful, additional emphasis on female legs. For quite a few young men, early touches and observations triggered the first erotic, secret fantasies with women who dressed in such a way. Read in here fulfilled secret desires and dreams of men who love the classic feminine and wanted to learn from goddesses.



A renew edition. It is a sampler of five hot stories about
the horny obsession to share your beloved wife and man
with other nylon-oriented tights lovers.
A good guide also on how to treat them in a species-appropriate way.
1.
Behind the door.
A girlfriend watches her classmate making love with a mature man. In tights!
2.
Wife sharing.
Ny and her beloved husband Paul in a swinger club.
3.
Man sharing.
Ny and Paul visits friends and their young daughter comes closer. Prequel of Chapter 1
4.
The young man in my wife.
Paul watches his wife by making love lying down next to her. More than a threesome.
5.
Bonus Track A Hotwife's Life. Read here!
Totally lust in the dark. When a supposed threesome becomes a game with four!
A German Milf story. This is a newly revised version of my first German bestseller. A young man experiences a completely new Martha, his mother's best friend, on his 18th birthday and afterwards. Martha realizes that Thomas has been including the gauzy pantyhose on her beautiful long legs in his wet dreams since a very long time and she grants him unbelievable things as he visits her in her villa!
The author Ny Nyloni and her husband Paul enjoy spending their holidays in Mauritius in a luxury resort. All inclusive. Only this time a young woman is all inclusive too. Kim just turned 18, still virgin, shy and completely inexperienced.
One evening she appears unannounced in their beach bungalow and sees a hot oral gift that Ny offers her husband before dinner. But instead of running away from this situation, she gets invited by the two experienced nylon lovers. And together they start a journey into a lustful world, which is still completely unknown to young Kimmie. "A threesome with a virgin", the successful German title, leaves nothing to be desired and leads the readers deep into the silky wonderland of Ny Nyloni. As always, a delicious pleasure!

Former issue was titled "Virgin Kimmie". The content is the same.
Cover Girl
Jennifer Thomson @jennnnniferthomson2
In four hot stories, author Ny Nyloni describes dealing with tights-oriented nylon lovers and how they prefer to be seduced.
1. In a swingers club or Pointie
, the stimulation of the frenulum. Too much to a young man.


...A lustful groan followed on her part, she lifted her face towards her husband, who kissed her red mouth tenderly. But soon he felt it grow cold on his itching cock, for she released herself out of his arm. He guessed what she was about to do, released her turning body, and the next moment looked into the surprised, almost haunted face of the young man, who now realized how a refined hand and a mouth closed around his stiffly member at the same time! ...

2. The Surprise Guest or tied up for two nylon lovers. One couple opens up for a silky threesome.


..."Mhm... tell me, darling, could you imagine having a threesome? With another man?" He had then asked his wife that in bed at following night.
"I don't know. Could you?" And they had both fallen over each other like there was not tomorrow.
But he didn't tell her what he had already discussed with his nephew....

3. Morning Glory or how to fight it down. Ny and Paul in action!


..."On the way, honey!", she thought, creeping on tiptoe back to the wide bed, slipped there into her high heeled nude-colored Louboutins, wearing only honey-colored shiny tights and a nighty. Then she glided gently and quietly under the covers again to her sleeping husband, who had a passable morning glory in his dream, lay down the other way around, her silky legs with the pumps at the level of his face, her freshly made-up, Ferrari-red mouth opening luringly over his bulging glans! Then her morning, expert work began. Took her time to spoil...

4. The Surprise Guest 2. It goes on!


...This tension, this tickling, these horny men next to her, who had long been thinking with below their waistline, if they weren't thinking about her wonderful tits! And she thought of their hard cocks that she was about to suck and fuck! And she wanted it in the ass today, a sandwich, or so her husband had promised her, now looking at his nephew, asking.
"Do you know what a sandwich is?"
This one had no idea! ...




This is a new edition of "Masturbate on Capri". Some publishers find the title and cover too unique, giggle!
Visit my island and read here the first chapter

First, this eBook is not a travel guide about Capri, although it knows hidden corners, where it is excellent masturbating, with a magnificent view of the azure sea. This is rather a story of a woman who lives, writes, and loves there. It is my story. It is me like to live out my nymphomaniac sexuality often and with pleasure, in physical exchange with others like-minded people, of course my husband as well, but also very often for me alone, in peace and seclusion. But in this case, I fall in love with a rather young man, his identity isn`t important for the plot, who never see before a woman masturbates at a little rock on the cliffs. As luck would have it, he is a nylon lover who watching his fulfilling of wet dreams. Her wearing tights! I show him the real important hot spots of Capri, my body! Also, a short movie of a ruin orgasm doing by my girlfriend Yvonne, tongue pierced, voluntarily experienced by my hubby! Anyone who knows me, knows that no gussets stay dry and closed! The young man is a pure artist in doing freehanded climax! Flying cum at my island; not only there! A very wet pleasure and a very intimate look into the life of the author, who as always lets it rip in her unique way!
Visit my Cover Lady Monika
When Robert, a German 52y privateer, got back into his Porsche at the lonely rest stop in northern Bavaria after refueling at night, a thrilling fright ran through him...
...then it suddenly jumped out at him, his trigger point, the insurmountable eye-catcher: the wafer-thin yarn on a woman's leg that made everything in his thoughts and actions snap back to factory state, all at once claiming his entire attention, on which his eyes had to linger for an unbelievably intense moment, not despite the initial shock, but rather because of the positive surprise! The fine woven material on the curved knee and the surface of the perfectly shaped thigh above it, where it shimmered seductively dark - it teased his connoisseur's gaze. Not opaque, he registered immediately, but rather 20den, slightly shiny, black. It all happened in a tenth of a second in his very private head cinema. As if the legs of Kim Basinger had stepped off the screen. Then the question that had to be asked immediately afterwards: hold-up stockings or perhaps (gladly!) pantyhose after all? And meanwhile, the simultaneous confusion of being completely paralyzed for a brief time irritated him, he got heart flutters and was unable to realize the only relevant fact: There is a complete stranger young woman sitting in my car! His absolute dream with stockinged endless legs revealed itself to him...
...Julia, a young beauty breaking out of her hopeless life, seizes the opportunity and they both head down to their shared happiness all the 1300 miles way to Sicily in one go.
Visit my Cover Lady Monika
Maxi version two in one! Tobias and his silky stepmother Part 1 and 2, so the German titles, are bestsellers in that language. Now the successful author has translated this German MILF story into English and lets us participate in the erotic events that take place between the thirty-nine-year-old, stunning good looking wife Anja and the virginal, eighteen-year-old Tobias, the son from her husband's first marriage.
In increasingly intimate moments, she grants the young tights admirer the pleasure of her beautiful nylon legs to her seductive, devotional body! At long last, she introduces him to the magic of pleasure that he had never experienced before!
That she is a hotwife do not make these first experiences of a young boy less horny
Visit my Cover Lady Monika
Model Giulia and her husband Gennaro move into their inherited villa on Capri. Coincidentally, this makes them Ny and Paul's new neighbors. The elegant top model for vintage nylon stockings and precious lingerie somehow looks familiar to them. After all, they regularly enjoy a photo together, on which they could not assign the erotic lady on it to anyone until now. This will change now!
Two Hotwifes meet each other, two Wife Sharers have their silky pleasure and Monika, the cover lady lets us participate at the beginning when her husband becomes a cuckold.
Pure silky action as only this author can bring across!
The beautiful Gisela is a twenty-six-year-old neighbor with whom little Jens from the apartment next door spends an exciting time in 1959 Germany. He affectionately calls her Auntie Gisela. For him it is an increasingly exciting relationship, for Gisela a normal babysitting job when his parents are sometimes not at home. One day, while playing with his toy cars, he discovers her beautiful, shimmering legs under the kitchen table and the foundation for his love of fine yarn is laid! In his shy fantasy, she becomes his mistress without suspecting it (or does she?), but it is not until after his eighteenth birthday that his everlasting longing to fulfill all his dreams is fulfilled!
The author describes in her inimitable and romantic way how little Jens becomes a real nylon lover with the now forty-year-old Gisela, whom he still calls Auntie.
A German MILF story, as it has not yet been written. One of her greatest successes in Germany, now also translated into English.
Cover Girl
Stepanie @stephaniedtclassy
Voyeurism - Wife sharing - Man sharing!
Whatever works, that's the motto of the two main characters in this eBook. The former London model Violet lives with her husband Charly in Munich-Grünwald. Both loves to watch each other, to share the partner with others, with sex and eroticism through shimmering, finely stockinged legs playing a supporting role. For Violet in particular is a leg model of the highest order and a mature, experienced lover who knows how to give her Charly very special pleasures with her long, magnificent benefits.
One day this journey of pleasure picks up speed when the nephew Paul and also the young student Angelika with her tongue pierced friend Yvonne enter the debauched, silky life of the two.
Like a play in three acts, you'll be a front row spectator to the back story of the lives of Ny Nyloni and her husband Paul, two years before they met. Once again, lust as a voyeur and nylon fetishism are portrayed in the wonderful way that only this author can write!
Cover Girl Catrice @classycatrice
A young couple, Sven and Julia, perfect their desires and passions in bed. The secret dreams of the two also come up. As it turns out, Sven's stepmother plays a major role in this, but especially her stockinged legs in tights. Julia fulfils his longing, but not only her...
Jerry Hall, the American model, born in 1956 and still an absolute must see, once said about their relationships and marriages, including those with Bryan Ferry and Mick Jagger: "If you really want to get a man attached to you, you have to give him a blow job every day."
I could expand this wisdom, because it also works the other way round.
The other day I had a fantasy of a beautiful woman, a very rich and powerful lady. A German company director named Frau von Dahlem. And she needed a new male personal assistant. Madam means Frau in German, in this case it's more meant than Dame or Lady. About a job interview of a very special kind, because Christina von Dahlem does not just cum simply... besides she's THE BOSS!
And there's Tobias, a young smart man. He will need a persistent tongue. Why? Read it yourself. Best entertainment of Ny Nyloni.
Cover Girl Violetta
Cover Girl Sharon Janney
Maxi version of this Bestseller! When the twenty-year-old student Pamela had arrived unannounced at the villa on Capri Island a week ago, already sleeping in her room, she suddenly heard moaning pleasure in the corridor during the night. Then she could watch her beloved Auntie and her Uncle Pauly celebrate a threesome with a famous German actress in a way she could never have imagined. Pam's parents were two much-travelled English diplomats, living in Munich, and so from an early age Pam became the temporary foster child of the family's good friends. Ny, who she called Auntie, and Uncle Paul, who she called Pauly.
As it turns out in a very embarrassing conversation the next morning, the two are an enthusiastic swinging couple. They love to watch each other making love with others. Pam was fascinated and curious about this new experience. Secretly, she wanted the two attractive people already before. The special thing about the following awakening of the young Pam to an experienced lover, is the preference for shimmering nylon legs and high heels. Ny and Paul are experts in this. From one weekend to the next, Auntie with Pam, both with Pauly in a threesome and other surprising constellation, in the end the whole thing culminates in an orgy full of silky lust with other like-minded people!
As always, the author seduces us into a world of silky lust and wild passion!
Order all eBooks in English and German here
Cum to visit my island Capri, living and masturbating!
Sex with the seductively shimmering look of beautiful, long legs plays a big role. This is what the author Ny Nyloni writes in her stories. In particular, she portrays the erotic experiences of experienced women with the young men who covet their admirable, mature bodies. From the middle to the end of the last century, pantyhose, for example, provided a delightful, additional emphasis to female legs. Not just a few young men were led to early secret, erotic fantasies through touching and watching women who dressed like this. In this manner fulfilling the secret wishes and dreams of men, who love the classic feminine form and wanted to learn from these goddesses.
Pictures of my photo album
Who I am
To my guide for fulfilled pantyhose eroticism
Look here for Sexy Sadies legs - my cover model
All my eBooks
Instagram
Order all eBooks in English and German here
More German editions
Who I am
Pictures of my photo album
To my guide for fulfilled pantyhose eroticism
to the complete german version
************************************
Silky Kisses
Ny