Sex in pantyhose, nylon sex, oral sex, erotic stories, tights, women's legs, women in pantyhose, swinger club, partnerswapping, high heels, pumps, fetish sex, nylon fetish, experienced women, mature aunt, MILF, bondage, teacher, sex with the ex, nephew and aunt
Germany´s most successful female author of pantyhose erotic, wife sharing and MILF fantasies!


Ny Nyloni

Queen of open gussets - Master of movies in front of your inner eye!

Welcome to my homepage!
"They love my legs. Everything else happens all by itself!" Marlene Dietrich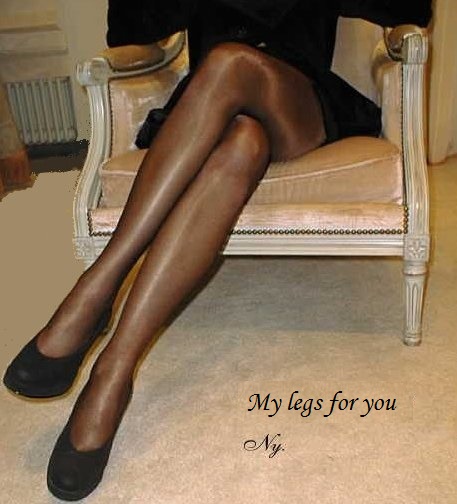 Ny Nyloni
Please excuse my possibly incorrect translation. I do it all by myself.
Like so many other more pleasurable things...
***
The author describes the lusty satisfaction with the silky material of tights in her stories,
as nylon lovers have never read before.
Unrestrained but tasty sex with nice, long legs in pantyhose and high heels!
The author is living with husband Paul on the island of Capri, Italy and in Munich, Germany.
************************************
Nylon Affairs Series
The english edition

Wet dreams - everything that men and of course women too
want from an experienced lady!
The edition is available on all Amazon portals worldwide!
Just out now!
Click here to order
This is one of my early works. I published it in German in two parts. It is one of my most successful stories. Here you can get both parts as a

maxi-version

. Enjoy!
A young German student from Munich, Niels, stays with his mother's best friend from time to time because she travels a lot. Charlotte is a successful lawyer who dresses according to Niels' specialpreferences preferences. Shortly after his eighteenth birthday, his wet dreams come true.
But Margret, another good friend of Charlotte and his mother, also plays a big part in his fantasies and so a lustful round of long legs in seductive pantyhose unfolds! Last but not least on a road trip to Lake Garda in Italy. Nylon lovers will once again get their money's worth in this early work by the female master of porn-erotic head cinema!



Click here to order
When Robert, a German 52y privateer, got back into his Porsche at the lonely rest stop in northern Bavaria after refuelling at night, a thrilling fright ran through him:
...then it suddenly jumped out at him, his trigger point, the insurmountable eye-catcher: the wafer-thin yarn on a woman's leg that made everything in his thoughts and actions snap back to factory state, all at once claiming his entire attention, on which his eyes had to linger for an unbelievably intense moment, not despite the initial shock, but rather because of the positive surprise! The finely woven material on the curved knee and the surface of the perfectly shaped thigh above it, where it shimmered seductively dark - it teased his connoisseur's gaze. Not opaque, he registered immediately, but rather 20den, slightly shiny, black. It all happened in a tenth of a second in his very private head cinema. As if the legs of Kim Basinger had stepped off the screen. Then the question that had to be asked immediately afterwards: hold-up stockings or perhaps (gladly!) pantyhose after all? And meanwhile, the simultaneous confusion of being completely paralysed for a short time irritated him, he got heart flutters and was unable to realise the only relevant fact: There is a complete stranger young woman sitting in my car! His absolute dream with stockinged endless legs revealed itself to him...
Julia, a young beauty breaking out of her hopeless life, seizes the opportunity and they both head down to their shared happiness all the 1300 miles way to Sicily in one go.
Click here to order
Cover Girl
Violetta @to_be_a_ladyy__
Having a wet dream means having maybe one image of a really stunning milf in your head....! Or two, maybe three or four?
If you're a pubescent boy lying alone in your dark teenage room, you hear the clacking of pointy high heels in the hallway from a mature woman, the clacking stops outside your door, and the door opens a crack.... it could be one of the milfs in these four fantasies Ny Nyloni has dreamed up for an eighteen-year-old English boy who follows the gorgeous Lady Vi on Instagram, and a student from Innsbruck who suddenly finds himself face-to-face with his secret dreams: two ladies in a café with seductively shimmering legs...!
But the lustful round dance opens with the exciting fantasy of a jewellery saleswoman in a department store who, opposite the hosiery department, observes the young, bashful boys who want to buy or just look at pantyhose there. She fulfils one of them a much-desired wish!
A hot, exciting date under Vesuvius and a silky threesome in the Grand Hotel from two perspectives complete these wet fantasies of young men about beautiful, mature women with long stockinged legs, silky feet and magnificent breasts...! Read, feel, cum!
Click here to order
Cover Girl Catrice @classycatrice
T
o make it French-like you need a French teacher. 
Sex with the teacher is a fantasy as old as it is still valid, also for an adolescent pupil. Matthias, a high school graduate, has had a thing for shimmering, silky legs ever since he can remember. A classic image of women that he cannot escape in his erotic dreams. Until one day the beautiful Frenchwoman Eva Dupont becomes his teacher and he has his ideal cast for his wet dreams in front of him, the whole dear long school day. One day he discovers the secret of his attractive and erotic dream woman and follows her to a swinger's club. There everything takes its beginning...
Click here to order
Cover Girl Catrice @classycatrice
A young couple, Sven and Julia, perfect their desires and passions in bed. The secret dreams of the two also come up. As it turns out, Sven's stepmother plays a major role in this, but especially her stockinged legs in tights. Julia fulfils his longing, but not only her...
Click here to order
Cover Girl Madeleine @miss30inpantyhose
It is a sampler of hot stories about the horny obsession to share your beloved wife and man with other nylon oriented tights lovers. A good guide also on how to treat them in a species-appropriate way.
1. Behind the door. A girlfriend watches her classmate making love with a mature man.
2. Wife sharing. Ny and her beloved husband Paul in a swinger club.
3. Man sharing. Ny and Paul visits friends and their young daughter comes closer.
4. The young man in my wife. Paul watches his wife by making love lying down next to her. More than a threesome.
Click here to order

Cover Girl Jennifer @jennnnniferthomson
With four hot stories, author Ny Nyloni describes dealing with pantyhose-oriented nylon lovers and how they prefer to be seduced.
1. Pointie or the stimulation of the frenulum. Ny shares some experiences and gives helpful advice.
2. The Surprise Guest or tied up for two nylon lovers. One couple opens up for a silky threesome.
3. Morning Glory or how to fight it down. Ny and Paul in action!
4. The Surprise Guest and a silky sandwich. It goes on!
I
Click here to order!
Cover Girl Sharon @sharonjanney
The author Ny Nyloni and her husband Paul enjoy spending their holidays in Mauritius in a luxury resort. All inclusive. Only this time a young woman is all inclusive too.
Kim just turned 18, still virgin, shy and completely inexperienced.
One evening she appears unannounced in their beach bungalow and witnesses
a hot blowjob that Ny gifts to her husband before dinner.
But instead of running away from this situation, she gets invited by the two experienced nylon lovers.
And together they start a journey into a lustful world,
which is still completely unknown to young Kim.
"A threesome with a virgin", the successful German title,
leaves nothing to be desired and leads the reader deep into the silky wonderland of Ny Nyloni.
As always, a delicious pleasure!
Join!
Click here to order
Cover Girls
Sharon @sharonjanney
Violetta @to_be_a_ladyy2
When the twenty-year-old student Pamela had arrived unannounced at the villa on Capri island a week ago, already sleeping in her room, she suddenly heard moaning pleasure in the corridor during the night. Then she could watch her beloved Auntie and her Uncle Pauly celebrate a threesome with a famous German actress in a way she could never have imagined. Pam's parents were two much-travelled English diplomats, living in Munich, and so from an early age Pam became the temporary foster child of the family's good friends. Ny, who she called Auntie, and Uncle Paul, who she called Pauly.
As it turns out in a very embarrassing conversation the next morning, the two are an enthusiastic swinging couple. They love to watch each other making love with others. Pam was fascinated and curious about this new experience. Secretly, she desired the two attractive people already before. The special thing about the following awakening of the young Pam to an experienced lover, is the preference for shimmering nylon legs and high heels. Ny and Paul are experts in this. From one weekend to the next, Auntie with Pam, both with Pauly in a threesome and other surprising constellation, in the end the whole thing culminates in an orgy full of silky lust with other like-minded people!
As always, the author seduces us into a world of silky lust and wild passion!
Featuring Insta-Stars on cover and inside
Sharon Janney @sharonjanney and Violetta @to_be_a_laddy
Read here the bonus track from ebook
Ready to cum...
Click here to order
First, this eBook is not a travel guide about Capri, although it knows hidden corners, where it is excellent masturbating, with a magnificent view of the azure sea. It is also not a guide to how women and men has best masturbate. According to the motto, do it here at this point, aaahhh... yyyeeezzz..., do it so and so, uuuhhh!
This is rather a story of a woman who lives, writes and loves there. It is my story. And it is me, that I like to live out my nymphomaniac sexuality often and with pleasure, in physical exchange with others like-minded people, of course my husband, but also very often for me alone, in peace and seclusion.
But in this case I fall in love with a young man from Sweden, who never see before a women masturbates at a little rock on the cliffs. As luck would have it, he is a nylon lover who watching his fulfilling of wet dreams. Her wearing tights! Me shows him the real important hot spots of Capri! A ruin orgasm doing by my girlsfriend Yvonne, tongue pierced! Anyone who knows me, knows that no gussets stay dry and closed! Flying cum at my island; not only there! The young man is a pure artists in doing freehanded cum! A very wet pleasure!
My regular readers know exactly how and what I like, written down on many pages, which always excite me and after which I also have to calm down again, so to speak, turn my excitement about my own fantasy into exhaustive satisfaction. I like to do this myself and often. Inevitably also much too often via Skype, because my husband Paul, as some of you may know, cannot always live together with me for professional reasons. Since some time, I have chosen my new domicile, where I live mostly alone: The island Capri.
Really? You can't live more beautifully. What happens there and what I experience there, I write down and let the world participate in it. Who likes it, reads it with pleasure, otherwise there is much, much other literature, which is certainly more uplifting, but perhaps not quite as satisfying...!
...cum with me on my island
Kneel down...
Click here to order!
Jerry Hall, the American model, born in 1956 and still an absolute must see, once said about their relationships and marriages, including those with Bryan Ferry and Mick Jagger:
"If you really want to get a man attached to you, you have to give him a blow job every day."
The main character could expand this wisdom, because it also works the other way round.


A fantasy of a beautiful woman, a very rich and powerful lady. A German company director named Frau von Dahlem. And she needed a new male personal assistant. Madam means Frau in German, in this case it's more meant then Dame or Lady.
About a job interview of a very special kind, because Christina von Dahlem does not just cum simply - besides she's THE female BOSS!
And there's Tobias, a young smart man. He will need a persistent tongue.
Why? Read it yourself.
My Bestseller!
Click here to order!
New revised version of
Between the long and silky legs of Aunt Martha
Shortly after his 18th birthday, a young man is mercilessly seduced by the best girlfriend of his mother. Once she realizes that she can seduce him with her racy pantyhose legs and drive him absolutely crazy, she does so with very satisfying results for both of them! During his birthday party in the bathroom, later in the bed of her villa the whole night! The german bestseller of Ny Nyloni now written in english!
Sex with the seductively shimmering look of beautiful, long legs plays a big role. This is what the author Ny Nyloni writes in her stories. In particular, she portrays the erotic experiences of experienced women with the young men who covet their admirable, mature bodies. From the middle to the end of the last century, pantyhose, for example, provided a delightful, additional emphasis to female legs. Not just a few young men were led to early secret, erotic fantasies through touching and watching women who dressed like this. In this manner fulfilling the secret wishes and dreams of men, who love the classic feminine form and wanted to learn from these goddesses.
Masturbate on Capri
Read a story from my island Capri
Pictures of my photo album
Who I am
To my guide for fulfilled pantyhose eroticism
Look here for Sexy Sadies legs - my new cover model
More German editions
Georgina O´Well, my pseudonym for fetish-free, sensual eroticism
order here
Who I am
Pictures of my photo album
To my guide for fulfilled pantyhose eroticism
to the complete german version
************************************
Silky Kisses
Ny